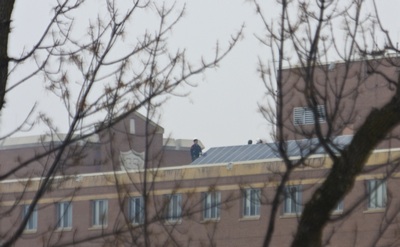 One year after a group of St. Thomas students envisioned placing solar panels atop Brady Hall, their wait is finally over.
Twenty solar panels, which are intended to reduce energy costs by $500 a year, were installed on the roof of the residence hall by late Wednesday evening.
Winter weather and questions about Brady's structural stability delayed installation, which was planned for Dec. 19, according to junior David Hackworthy, who was a part of the student group.
Junior David Dahl said it was difficult telling friends the panels were coming, when the installation date kept being pushed back. Even so, he said Thursday was a great day.
"It's really good to see that all our work is finally paying off and we have something to show for the fruits of our labor," Dahl said.
Dahl said the ribbon cutting ceremony is set for noon Tuesday, Feb. 9. The Rev. Dennis Dease will be among those on the roof of Brady Hall for the ceremony.
Contractors from Innovative Power Systems installed the 3.5-kilowatt systems that produce roughly the same amount of energy needed to power a house.
The panels last 30 years and should offset the emission of 94.5 tons of carbon dioxide.
Xcel Energy must inspect the panels before they can begin making St. Thomas more sustainable.
"It's still going to take a couple weeks to hook the panels up with the building and get the software installed to monitor things," Hackworthy said.
The project is expected to cost $25,000. The student group received a $15,000 grant from the beverage committee to purchase the panels and the university contributed the remaining $10,000.
Half the money the university saves using the panels will be put into a student scholarship fund, said geography professor Paul Lorah, who consulted on the project.
In addition, Lorah and the students received approval for a Donate-a-Panel program, where people can donate $1,000 for a panel. Lorah and the students are working on creating software that would allow donors to track the energy output of their panel.
Katie Broadwell contributed to this report.
Shane Kitzman can be reached at smkitzman@stthomas.edu