Undergraduate Student Government President Greg Scharine said the council's new members have helped make significant progress in USG's neighborhood relations, digital era and healthy living on campus initiatives.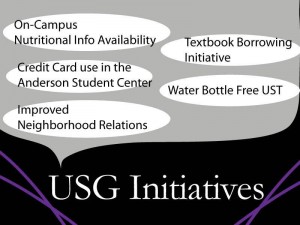 "I think we're arguably light years ahead," Scharine said. "I think it was really good for us to have new members on USG this year. They came up with ideas that we would have never thought of because we've been doing it so long."
Sophomore Nicole Lovold said she thinks the council created initiatives that students can benefit and learn from.
"They're our leaders on campus, so it's important that they demonstrate qualities for us as a student body," Lovold said.
Neighborhood relations
Scharine said this year's council is trying to set a standard with measurable projects so future councils can continue making progress with neighbors.
"We've had university relations as a topic for a long time. This year we put metrics on it. And we put things that we can measure and say we were successful at these programs because it's hard to judge relations," he said.
One initiative, the Sigma Chi cleanup will be adjusting with the weather.
"The cleanup with Sigma Chi has been going great," Scharine said. "They're working on getting a shoveling brigade together to start shoveling sidewalks, bus stops (and) things that are usually forgotten by many students and neighbors once more snow comes."
Junior Erin Antrim said the cleanup shows that students respect their neighbors.
"I think it's a good thing, and they should definitely keep doing it," Antrim said. "Anything to keep our neighborhoods clean."
Scharine said USG's paired cookie and contact card campaign with Off-Campus Student Services successfully connected students with their neighbors.
"The cookies and contact cards worked out really good," Scharine said. "Over 80 students made cookies and went up to their neighbors."
Vice President Mike Orth said the council plans to send a Christmas card to connect with neighbors this holiday season.
"We took a picture of the entire council at the last meeting, and we're going to send that to various neighbors that we have on a distribution list," Orth said. "I think it's a great way to really connect with them."
Digital era
Orth said the council is happy students will finally be able to use credit cards on campus when the Anderson Student Center opens, even if it will not be immediately.
"Hopefully within a few months of opening the student center we'll have that," Orth said.
Junior Wes Willemsen said letting students use credit cards in the student center would be "really convenient."
"If (students) can just pay with their credit card at the student center, students are going to be more willing to go there," Willemsen said.
Scharine said USG is also working on improving the university's mobile site instead.
"The (university's) mobile website is already developed and launched, but it doesn't work that well. What we're doing is giving IRT feedback," Scharine said. "So you'll see a revamping of the mobile website."
Healthy living on campus
Scharine said providing nutritional information for food in the Anderson Student Center is "one of the biggest things the council's been working on."
"McDonald's has to post nutritional facts. We should have to post them too," Scharine said. "So we're trying to form a committee right now to work directly with Dining Services. Because we're starting at the beginning, we can kind of brand it and make those healthy choice options visible."
Scharine said the council is also working on bringing a farmer's market back to campus spring semester.
"We've got a lot of hurdles still to jump through, but I think it'd be very easy for us to do that with the new Monahan Plaza," Scharine said.
Antrim said more access to fruits and vegetables would help her stay gluten-free.
"I think there's a lot of people who would use it, because I know a lot of my friends and I are always trying to figure out what's healthy," Antrim said.
More initiatives
The council is also looking into other initiatives including Water Bottle Free UST and a textbook initiative. Orth said USG is ordering hundreds of water bottles to give to students in hopes they will use the provided bottles instead of buying a new one every day.
"We're working with Students of Justice and Peace on it, and they're doing a lot of great work setting up the groundwork," Orth said.
He said the water bottles have been ordered, but USG is waiting to see if SJP received the grant for putting water refilling stations around campus.
Lovold said she hopes the initiative wouldn't completely banish plastic water bottles from campus.
"The one thing I have against it is everyone has those days where you forget your water bottle," Lovold said.
Orth said he has recently been working with the library staff to start an initiative that would let students checkout textbooks the library has on reserve.
"The library staff brought up this issue that there are really expensive textbooks, especially in the science department that are used year after year for very large classes," Orth said. "This isn't a for sure thing; it's in the really beginning stages."
Scharine said students could start benefiting from this initiative as early as spring 2013.
Antrim said this initiative could benefit a lot of students especially with the state of the economy.
"I rented a book this semester because I didn't have enough money to buy it, and they didn't have any used ones left," Antrim said. "I would probably rather borrow than buy books anyway because nobody ever keeps their books."
Orth said the council also has tobacco-free committees that meet with university administrators who are researching whether St. Thomas should become tobacco free.
Cynthia Johnson can be reached at john3175@stthomas.edu.