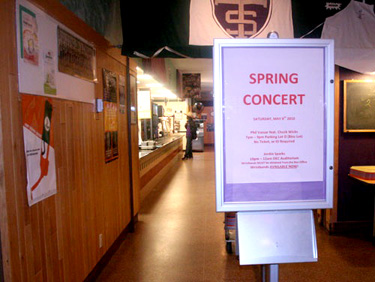 Every semester I look forward to one thing: the STAR concert. Even though my past experiences with St. Thomas' concerts have been hit or miss, I still get excited.
But this semester's concerts disappointed me more than ever before.
STAR announced April 29 that Jordin Sparks will perform May 8 in O'Shaughnessy Educational Center. Jordin's music is the typical pop you hear on KDWB, but she hasn't had a true hit since "No Air," her 2007 duet with Chris Brown.
I don't want to go to another concert like every other show St. Thomas has had, such as Michelle Branch and Sara Bareilles.
This spring's line up is a flashback to yesteryear. Jordin Sparks has not been relevant since winning season six of "American Idol" in 2007. Many seniors are also having déjà vu, rembering their freshman year when Phil Vassar performed on campus.
Is it really necessary to invite repeat performers when there are so many other great artists to choose from?
Music math
Jordin Sparks is costing the university $50,000. Let's break this down.
The money used to pay for musicians comes from student activity fees. If student activity fees fund the artist coming to campus, shouldn't the entire student body be able to attend the concert?
Only 600 can attend the Jordin Sparks concert. If each of those 600 students were to pay directly for his or her ticket, it would cost $83. But instead, those 600 students get to go "for free," while the rest of the students who don't go still fund the concert through activity fees.
Overall, STAR is shelling out $110, 000 to bring an irrelevant pop artist and a country star who performed here less than five years ago. Both performers hover along the same line of pop sensations. There have to be other artists we could bring, right?
A laundry list of options
Gustavus Adolphus College recently had hip-hop artist Lupe Fiasco perform on campus for the same price as Jordan Sparks. Tickets were available for purchase for students and the public as well. A lot of Tommies even went to see the concert.
In 2008, Creighton University, a St. Thomas-sized Jesuit school in Omaha, Neb., brought in alternative rockers Third Eye Blind to play at no charge to its students. Marquette University, another school comparable to St. Thomas, hosted electronic mash-up artist Girl Talk in February 2010.
According to Main Stage Productions, which lists college concert booking prices, there are plenty of other relevant artists for $50,000 or less.
Why doesn't St. Thomas bring a hip-hop artist? For the price of Jordin Sparks, Tommies could be enjoying a performance by Common. Cobra Starship, an alternative band, has a couple hits under its belt and costs well under $50,000. Even recent pop sensation Ke$ha is less expensive and certainly more relevant.
Students not too excited
According to a TommieMedia poll, most students are not thrilled about the spring concert line up. Out of the 346 people that voted in the poll, 36 percent are completely uninterested in the concert line-up. An additional 21 percent of people said they don't even know who the performers are.
Students should be the ones to decide who performs at concerts because their money is being used. Clearly there are other Tommies who are just as disappointed with the spring concert line up as I am.
I think there should be a better means of deciding which performers are invited. Polls to decide the artists should be better advertised to the student body. If a majority of students get to vote, that means more students will be happy.
Gina Dolski can be reached at grdolski@stthomas.edu