Recently, St. Thomas administrators have discussed building tennis courts in the green space just to the west of Brady Educational Center.  Although some neighbors vehemently disagree, building the tennis courts would be a good idea.
St. Thomas is attempting to build up its athletic facilities with the introduction of the Anderson Athletic and Recreation Complex. Building regulation-size tennis courts would complete this renovation. A large and successful athletic program will benefit the university in the future.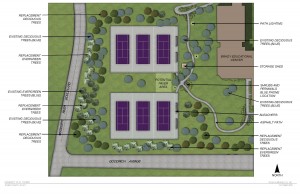 As much as some people hate to admit it, athletics play a major role in the success of colleges. Athletics put colleges on the map. Because athletics appeal to many people in the United States, successful sports teams act as advertisements for colleges.
More people hear about a school with a successful athletic team because it allows the name of the school to spread to a larger audience than if another aspect of the college is successful.  When sports teams are successful, they usually play teams from other parts of the country as they pass levels of playoffs, such as the 2010 volleyball season.
Many demographics watch sports, so having a good athletic program makes a college appeal to a lot of people. In this way, a sense of community develops between the university and those who support its sports teams, instead of only between the university and its students. Also, this provides more opportunities for potential donors to find out about the university.
In order to have good athletics teams, the university needs to recruit skilled athletes, and to recruit those athletes, the university needs up-to-date athletic facilities. Therefore, high quality athletic facilities tend to help athletic teams become better. Through these tennis courts, St. Thomas will be more attractive to highly-skilled tennis athletes.
I love the green space behind BEC just as much as anyone else. I have two classes in BEC and would rather look out on the trees and green space of that area than at people playing tennis. However, St. Thomas has every right to build tennis courts in that spot, even if the neighborhood does not agree. St. Thomas was not created to be a neighborhood park; it is a functioning university with an active focus on athletics.
Tennis courts would benefit the university's athletic foundation, which would in turn help the university, benefiting both the students and the neighborhood in the process.
Maggie Clemensen can be reached at clem0427@stthomas.edu.