After defeating the University of Wisconsin-River Falls 27-3 last Saturday, St. Thomas now sets its sights on undefeated St. Olaf.
The Oles, who are coming off a 34-0 shutout of Simpson College, will have home-field advantage as the Tommies travel to Northfield, Minn., this Saturday to kick off conference play.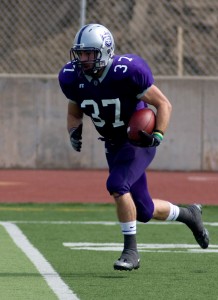 SATURDAY'S GAME
"We love to get back in the MIAC and do what we do," junior fullback Trevor Flaten said. "We've played two pretty good teams so far and put up some good numbers, and we know that [St. Olaf has] too. It's going to be a great game and a great atmosphere."
Junior tailback Colin Tobin also looks forward to starting MIAC play on the Oles' home turf.
"It will be fun to play at their field for the first time since the six-overtime game we played there my freshman year," Tobin said.
In 2008, St. Olaf beat St. Thomas 29-23 in the longest game in Division III football history. Last year, the Tommies avenged that loss by winning 27-16 at home. St. Olaf finished fifth in the MIAC last season with a 5-5 record.
After narrowly defeating Luther College 28-21 in its season opener, St. Olaf rebounded by dominating Simpson College. First-year starting quarterback Dan Dobson, who transferred from Division II Minnesota-Duluth, torched the Storm for 183 yards in the air and three touchdown passes.
"He plays the game at quarterback with a lot of confidence," coach Glenn Caruso said. "The first two weeks he's proven to be extremely accurate, and he's taken some shots that people would say, 'Jeez that's a little risky,' but they've all panned out. I think he's a really nice addition to their offense."
Junior star running back Leon Clark returns to the Oles this year. Last season, Clark was named to the All-West Region third team after rushing for 1,084 yards and five touchdowns, making him the first 1,000-yard rusher at St. Olaf since 2001. In addition, Clark led the entire MIAC conference with 198 all-purpose yards per game. After this year's first two games, Clark leads the Oles with 245 yards on 41 carries and has three touchdowns, including a 42-yard scamper for a touchdown in last week's game.
"The thing that makes [Clark] really special is he's not just a get outside speed guy, he can run in tight spaces," Caruso said. "If you make a mistake, he'll make you pay. He's a dangerous dude, and we've got to be very assignment-sound on the defensive side of the ball."
St. Olaf also returns five starters from a defense that only allowed 14.7 points per game last season, while holding opposing offenses to 79.3 yards on the ground. The Oles ranked second in the MIAC in total defense last season and return two of its starting four defensive lineman, defensive end Brian Albrect and senior Max Rustad.
Despite the Ole's stout defense, the Tommies don't plan on straying from the dual quarterback attack of junior starter Dakota Tracy and junior Greg Morse.
"It keeps them guessing," Caruso said. "We have two very good football players at the same position, and in recruiting we always say if you're good enough to play here, we'll find a way to get you on the field. You'll see both of them quite a bit."
Caruso said he believes the keys to success this week are simple.
"On defense, we're going to work to stop the run and force them to be one-dimensional on offense," Caruso said. "We're going to work to establish a run game early, to open up a pass game late. That's no secret. I think anybody who's watched us the last three years knows that's kind of who we are."
St. Thomas will attempt to start the season 3-0 for the second year in a row, while St. Olaf will try to start 3-0 for the first time since 2008 — when the Oles beat St. Thomas.
Ryan Shaver can be reached at Shav7005@stthomas.edu.