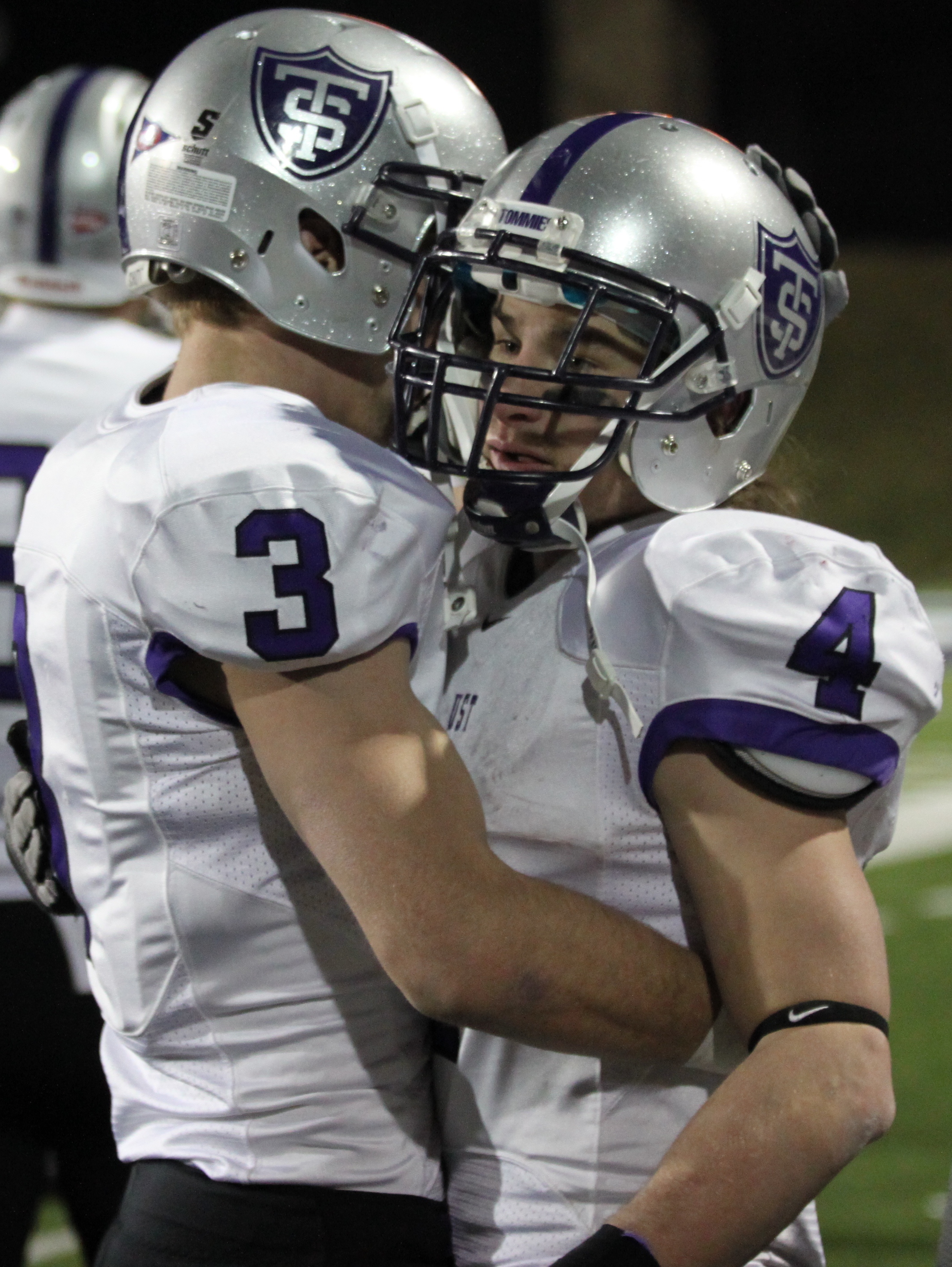 READ MORE, SEE MORE
Wisconsin-Whitewater ended St. Thomas' season 20-0 in the NCAA semifinals, shutting out a team that averaged more than 40 points per game this year.
Coach Glenn Caruso and the Tommies put together the best football season in school history this year, but they still left room for improvement.
"One of the beautiful things about Division III is that you have to earn your way to the championship," Caruso said. "As far as we've come, it might not seem like the jump from three to one (in the ranks) is very big, but it is very big."
Eleven senior starters played their last game in a St. Thomas uniform including eight first team All-MIAC performers. Senior wide receiver Fritz Waldvogel said the last four years have been "unreal."
"The records are fun, but the thing we're going to remember is just spending the time together, having a blast and enjoying the ride," Waldvogel said. "It's sad that its coming to an end, but the relationships are going to last a lifetime."
The Tommies drove inside the Warhawks' 40-yard line four times and inside the 30-yard line three times but could not finish a drive. Saturday's game is the first time the Tommies have been shutout since 2004.
"With the way we were able to move the ball early, I'm very surprised we weren't able to come up with points," Caruso said.
[slidepress gallery='111209_caruso']
The Warhawks showed why they are two-time defending national champions early in the first quarter.
After a forced Tommie punt on their first possession, senior quarterback Matt Blanchard orchestrated a 10-play, 57-yard touchdown drive.
The Gagliardi finalist had 14 rushing yards and 34 passing yards on the drive and ended it with a three-yard touchdown pass to junior fullback Bernie Tamsett. Blanchard passed for 179 yards, ran for 39 yards and had passing and rushing touchdowns. Senior linebacker Tony Danna said that Blanchard is probably the best quarterback he's ever played against.
"He is really poised in the pocket," Danna said. "We got pressure on him, but he would still sit in there, make his reads, keep his eyes downfield and make plays."
The Tommie offense showed life later in the first quarter, putting together a 14-play drive but came up empty handed. Senior running back Colin Tobin moved the chains three times on the drive, but on fourth and seven from the Whitewater 23-yard line senior quarterback Dakota Tracy's pass fell incomplete. Tobin was the life of the lackluster Tommie offense Saturday, gaining 98 of the team's 214 yards.
After a slow start, Warhawks senior running back Levell Coppage busted out a 44-yard run, and Whitewater threatened to score again. Senior Willie Baregi's sack on third down held the Warhawks to an Eric Kindler field goal and a 10-0 lead with 13:31 left in the second quarter.
Coppage rushed for 110 yards, a modest total for the man Danna calls "the best back to ever come out of Division III."
Blanchard picked the Tommie secondary apart on the ensuing drive, which included a 40-yard pass to junior receiver Tyler Huber. Blanchard made it 17-0 with 3:57 left in the first half with a five-yard touchdown run.
Clock runs out on Tommies' season
The Warhawks got another Kindler field goal on the opening drive of the second half to go up 20-0, but more importantly they ran almost eight minutes off the clock. The Tommie offense, hopeful for a comeback, didn't get on the field until the third quarter was more than halfway over. Caruso said that was one of the most pivotal drives of the game because it affected the way he had to call plays.
Desperate to get something going, the Tommies went for it on fourth and six near midfield. Tracy dropped back and dumped a screen pass to junior tight end Logan Marks, who was immediately dropped for an eight yard loss.
The third quarter was nearly over when Whitewater punter Kris Rosholt came out for the Warhawks' first punt of the game, pinning the Tommies inside the five-yard line.
St. Thomas put together another drive of more than ten plays that yielded no points. This time Tracy threw a prayer to Waldvogel near the end zone, and Kyle Wismer picked it off. Tracy struggled, completing 11 of 26 passes for only 64 yards, and  he also threw two interceptions.
With the game out of hand, Waldvogel made several catches on the final drive as he and the seniors played out their college football careers. Waldvogel finished the game with eight catches for 45 yards.
Caruso fought back emotion after the game as he described the progress his first recruiting class made over the last four years.
"For this group of seniors to buy into each other and to be willing to risks their hearts to set their goals as high as possible is something to be honored," Caruso said. "As a coach, you're absolutely blessed when you have guys who are willing to do that. Did we break down barriers? Of course. Are we where we want to be? No."
St. Thomas has improved every year under Caruso's coaching. Last year the team lost in the quarterfinals, but this year it made it to the semifinals for the first time ever. With a goal of making it to the national championship someday, there is still room for improvement.
Alex Keil can be reached at amkeil@stthomas.edu.